Hi, if you're on my page then you're probably looking for a wedding DJ or party DJ.  Turns out I'm actually a very good DJ and you've come to the right place.  Don't just take my word for it.  You can read the reviews of my previous customers from my Facebook page.  You can see a common theme appears with many saying the same things "guests up dancing all night long, goes the extra mile, true professional, not overbearing, brilliant, excellent, amazing. The best wedding dj ever"  It's important to me to make sure I do everything I can to make my clients evening.
I like to keep things simple and offer a single package that is professional, neat, tidy and elegant. It comes complete with everything I need to make your party awesome.  I offer a simple standard setup as sometimes, too much choice can be overwhelming.  Take a look at the pictures in the Gallery or for most recent videos check out my blog to see how the events I DJ at go. If you really want that bespoke setup I can work with 3rd party companies to shape and amend to your needs.
First Dance with Uplighting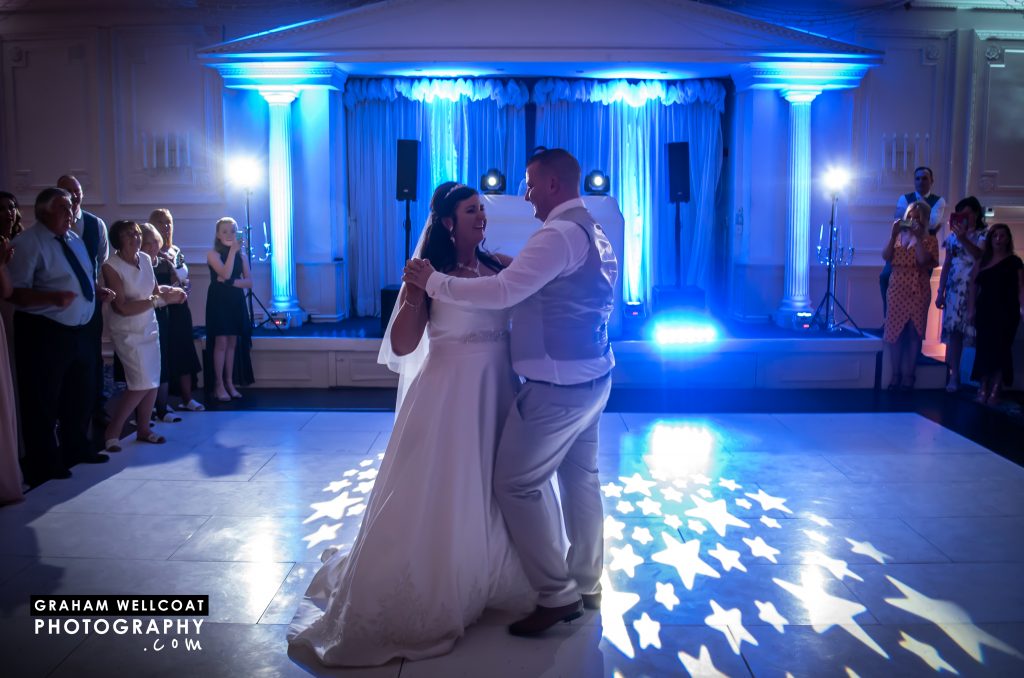 Wedding DJ & Party Prices:
The average price for my Wedding DJ service is £595.  The difference in price is mainly down to the pre wedding meetings to ensure that your big day goes exactly how you imagined it.  The pre wedding meetings are fundamental to what I do, if you read the reviews on Facebook or yell you will get a feel for how it goes.
Below is my promo video, recorded one evening in the Grand Central Hotel.   I was resident DJ at the Grand Central over the Christmas period hosting their Christmas parties and the New Years Eve Gala Ball.
Christmas Promo – Grand Central Hotel 2017.
[youtube https://www.youtube.com/watch?v=RLid_m-hAFY&w=560&h=315]
There are plenty more videos in the Gallery section.
Availability checker